The $20,000 NRHA Invitational Freestyle Reining
Presented by the Oklahoma City Convention & Visitors Bureau, the $20,000 NRHA Invitational Freestyle Reining, benefitting the Reining Horse Foundation, offered the public in the stands fun, excitement and great reining on Wednesday night. 
During the month of August, the public had the opportunity to vote on four NRHA members who competed in the event. Of the 18 submissions, based on the number or "likes" on contestants' videos, four riders were selected from social media: Terri June Granger of Dothan, Alabama; Robyn Schiller from Hollister, California; Amber Edmonds of Pepperell, Massachusetts; and Olivia Pakula from Scottsdale, Arizona. The top three scoring riders from the 2015 Congress Freestyle and from the 2016 RAM Invitational Freestyle Reining were also invited to compete: Pete Kyle of Amarillo, Texas; Drake Johnson from Wray, Colorado; Heather Johnson of Ringgold, Georgia, from the 2015 All American Quarter Horse Congress, and Bub Poplin of Fruita, Colorado, Shane Brown from Elbert, Colorado, and Steven Schwartzenberger of Longmont, Colorado, from the 2016 RAM Invitational Freestyle Reining.


Dressed as Zorro, NRHA Million Dollar Rider and freestyle reining legend, Rocky Dare, demonstrated freestyle reining aboard Wimpys Little Nite. Dare rode to the Zorro theme creating the trademark "Z" in the arena with his pattern. Wimpys Little Nite is by Wimpys Little Step and out of Dun It By Chick. The 6-year-old stallion is owned by Courtney Battison of Purcell, Oklahoma.

The competitors thrilled the crowd with Shane Allen Brown, riding Double Loaded Gun (Gunner x Anniegityergun), sliding to a 221.5 to clench first place honors. Brown, dressed in a poncho and sombrero, rode to a combination of the Mexican Hat Dance and The Champs – Tequila. Double Loaded Gun is a 6-year-old stallion owned by Janice Symchych of Yampa, Colorado.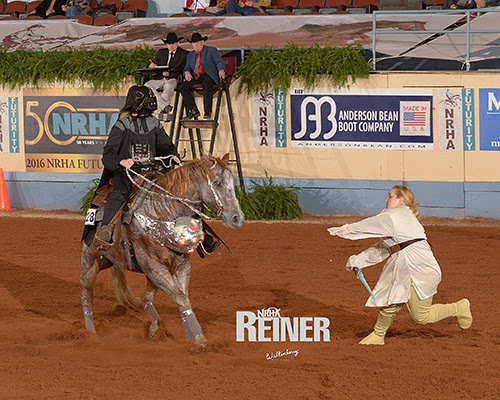 The reserve title went to Olivia Pakula who rode her own Vintage Sail (A Sparking Vintage x Light Paprika) dressed as Darth Vader to John Williams – Star Wars Intro Theme and AC/DC – Back In Black for a score of 220.

Competitors kept the public glued to their seats until the very end. Prior to the competition, the first 100 kids with a purchased tickets received an NRHA 50th Anniversary Limited Edition Breyer Horse.

The Reining Horse Foundation
You may have become familiar with the Reining Horse Sports Foundation these past 15 years. A dedicated group of individuals and committed donors have laid the cornerstones for an organization making a difference in the lives of reiners. In 2016, this nonprofit organization was rebranded as the Reining Horse Foundation with a mission of caring for the reining community and honoring the sport's legacy.
Proceeds from the Invitational Freestyle will benefit the Reining Horse Foundation in support of this mission. We recognize the Foundation and their dedicated Board of Directors and several members were in the stands enjoying the show.